السلام عليكم و رحمة الله و بركاته
Welcome to Iqraa Qur'an School
It is a duty upon every Muslim to learn and read the Qur'an correctly and recite it beautifully. At Iqraa Qur'an School, we are dedicated to teaching our students the correct way of reading the Qur'an.
Our Environment
Our school strives to nurture students' overall moral and ethical values, preparing them for leadership of the Muslim community, by providing them with an Islamic environment. Iqraa students break for prayer, receive rewards for wearing Islamic attire, and are taught proper manners and behavior.
Learn By Doing
Here at Iqraa Qur'an School we love innovation, creativity, and hands-on learning. Our teachers engage students through many different ways. Sometimes we play games, use interactive software, or work on 3D projects. Whichever class your child is in, they will love learning at Iqraa!
Iqraa's Mission
Our mission is to enable students to read the Qur'an with the basic tajweed rules and correct makharij, along with teaching Islamic studies, etiquette and ahadeeth.
Why
Iqraa Qur'an School ?
● A friendly, highly qualified, experienced & dedicated team of teachers
● A safe, secure & healthy environment
● Diverse student body & social environment allowing Muslim students a sense of belonging
● Modern & diverse teaching techniques that encourage learning through fun interactive games & activities
● Iqraa Quran School is an institution that will nurture a strong connection with the Book of Allah, the Glorious Qur'an, through its Memorization, Tilawah, understanding, and implementation.
● We develop well-rounded future leaders who are guided by the Qur'an and Sunnah and who make positive contributions to the community
● Annual competitions with awards & prizes
What
We Offer
● A full-time Hifdh program for girls & after school programs for boys & girls
● Instruction in implementing proper tajweed rules & makharij
● Learning the Holy Quran with basic meanings of the verses for all age levels
● Instruction in the Arabic language with age-appropriate curriculum
● Age-appropriate Islamic studies curriculum hand-picked from a variety of authentic sources
Our School
Sessions
During the academic school year, we have Evening school, which is broken up into two sessions, and Weekend school. We also offer a Summer school program for students who cannot attend Iqraa during the school year. Additionally, we have full-time women and girl's Hifdhs program.
Evening School
Evening school is split into 3 different sessions. Classes are held during the week from 5:30 pm to 7:30 pm. To learn more click this box.
Weekend School
Iqraa offers Weekend School for parents and students who cannot commit to evening school. Classes are held weekly from 1:00 pm to 4:00 pm. Click this box for more information.
Summer School
An alternative option to studying after school or on the weekends is to attend summer school here at Iqraa. Learn more about our summer program by clicking this box.
Girl's Full-time Hifdhs
Iqraa is pleased to provide a girl's full-time Hifidhs program, which began in September 2015. To learn more about this program, just click this box.
Our School Operates On Sadaqah
"Those who spend in charity will be richly rewarded." – Al Qur'an 57:10
Our News & Announcements
We'll post all of the important school announcements here monthly.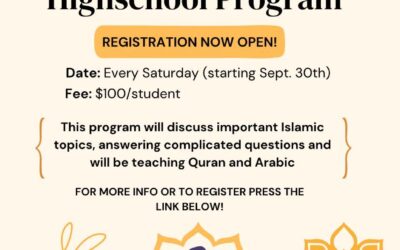 As-Salamu 'Alaykum
We are very excited to announce our second year continuing the Girls Highschool program, Alhamdulillah!
Date and Time:
Every Saturday starting September 30th from12:30-2:30pm.
Fee:
A one time registration fee of $25 a child is applicable.
The monthly fee will be $100 per student.
Our Curriculum:
Our curriculum will balance out Islamic studies, Arabic and Quran. We will be taking time out of our day every Saturday to work on Arabic, this will be the main key to our main goal. That goal being to encourage the girls' relationship with the Quran and grow confident in reading and understanding it.
Every Saturday of the month, we will be exploring a new topic: the history/lives of the sahabah and connecting their challenges into our daily lives, Al-Nawawi's Forty Hadith, the Fiqh of Tahara and dedicating the last Saturday of every month to the girls' giving a presentation about a Muslim leader of their choosing.
Register by copying the link in your url
https://forms.gle/SVhNgbmMii8td6NS7